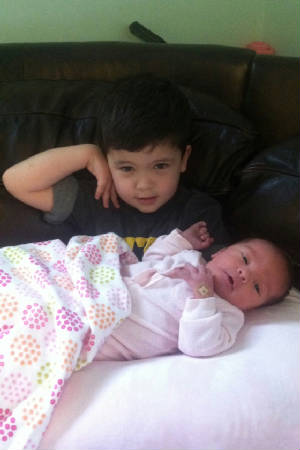 (Lulu with big brother Jack)

Congratulations to:

Jim and Dee Bandoblu

on the birth of their new granddaughter

Luciana Ella Margaret Bandoblu

born Thursday September 24th

7 lb 8 oz 19" long
~~~~~~~~~~~~~~~~~~~~~~~~~~~~~~~~~~
Thursday, October 15th 7:30pm
Borio's Restaurant Lakeshore Rd. Cicero
~~~~~~~~~~~~~~~~~~~~~~~~~~~~~~~~~~~~~~~~~~~~~~~~~~~~~~
Congratulations to :
Jack and Mary Wilbur
on the birth of their
Great Grand Daughter Sophia Lynn Finsel
Born 9/11/2015 @ 12:50 AM
7 lb 11 oz. 20.5 inches
Sunday, October 4th
Otisco Fire Department Pancake Breakfast at Otisco Firehouse (1933 Route 80 in Otisco, NY 13159) at 10:00 am. Enjoy a great breakfast, a beautiful ride, and help us to keep this lengthy tradition alive!
Sunday, October 11th
***(please note departure time change)***
SCC Mystery Dinner Cruise to an Excellent Restaurant. This trip replaces our annual Fall foliage cruise to the Buffalo Head Inn (The plan is to leave the Gander Mountain store (5864 Carmenica Drive in Cicero, NY 13039) around 2:00 pm for a nearly 2 hour cruise and then have dinner at our mystery location. RSVP's are requested as we need to make reservations with the restaurant. Kindly RSVP to jennis@twcny.rr.com and let us know how many will be attending. This is a RAIN or SHINE event. If the weather is bad, use your daily driver.
~~~~~~~~~~~~~~~~~~~~~~~~~~~~~~~~~~~~~~~~~~~~~~~~~~~~~~
| | |
| --- | --- |
| | |
CNY Porsche Club Of America
Challenges
The Syracuse Corvette Club at Cherry Valley.
This challenge goes back about 40 years
"THE CORVETTE'S WIN THE 2015 CHALLENGE"
As many of you have already heard, last Sunday's competition with the CNY Porsche Club at Cherry Valley was not only a whole lot of fun but also a huge success. After the, shall we say, lackluster attendance of our club at the June Meet, some members of the SCC stepped up to provide a high level of competition reminiscent of the many past years events. Thanks to Dick Walters, Jon Smith, Paul Marczewski, Peter Patrician and Rick Rinefierd for running their cars hard and keeping the pressure on the Germans. Special thanks to John Breazzano for sharing his hard earned wisdom and tips for getting around the tight little course. John has a new C7 on order so had to race his driver, a chevy Malibu, proving to us the track adage "go slow to go fast". Smoothness and a good racing line around the track mean much more than just stepping on the gas, hitting the brakes and turning the steering wheel. Extra special thanks go to Karl Jacobs for bringing his '15 Z06, setting the fastest time of the day and returning the Challenge Trophy back to the SCC where we hope it remains for a long time to come. Last but no least thanks to all the members (and their spouses, and family members) for coming out to Cherry Valley on a beautiful late August day to show their support and root for the SCC.
~~~~~~~~~~~~~~~~~~~~~~~~~~~~~~~~~~~~~~~~~~~~~~~~~~~
~~~~~~~~~~~~~~~~~~~~~~~~~~~~~~~~~~~~~~~~~~~~~~~~~~~~~

Corvette's at Golisano Childrens Hospital

Sunday August 9th

AWESOME WEATHER AND GREAT CORVETTE TURNOUT ! !
~~~~~~~~~~~~~~~~~~~~~~~~~~~~~~~~~~~~~~~~~~~~~~~~